In the start of a cleaning mini-series, we're helping you clean your home room-by-room with focused cleaning tips and the ultimate checklist.
This week, we're in the heart of the home – the kitchen… Let's get cleaning!
Kitchen floor
Dropped food, muddy shoes and mucky paws – kitchen floors get a rough deal. In fact, a study by the Hygiene Council found that some parts of the kitchen floor contain as many as 830 bacteria per square inch – goodbye, 5-second rule!
To get your floors as clean as can be, start by vacuuming round to remove crumbs, pet hair, dirt and grime, then give them a real treat by mopping with a diluted disinfectant solution – or better still use a steam mop to clean and sanitise floors with the power of steam alone.
Don't forget: Doormats are usually the first barrier between outside dirt and your home, bearing the brunt of muck. Take doormats outside and shake them to remove loose dirt, then scrub with a coarse brush and washing up liquid in warm water.
Worktops
About 2.4 million cases of food poisoning occur in the UK every year, according to the Food Standards Agency. Not surprising when a third of kitchen surfaces tested positive for coliform bacteria (which can include Salmonella and E. coli) in a 2011 study.
Clear away crumbs with a handheld vacuum cleaner or kitchen roll before spraying with antibacterial solution – don't forget to read the instructions too, as most need to be left on the surface for a minute or more to be able to kill those germs, before wiping thoroughly with a microfibre cloth. Remember to move worktop appliances such as kettles and toasters out of the way for a thorough clean.
Don't forget: dishcloths are highly likely to be contaminated with bacteria – as they are left damp and warm after wiping down surfaces or cooking utensils! To avoid spreading germs, put tea towels and dishcloths in the washing machine regularly, ideally at a temperature hotter than 60oC – and use separate cloths for drying dishes, wiping surfaces and drying your hands.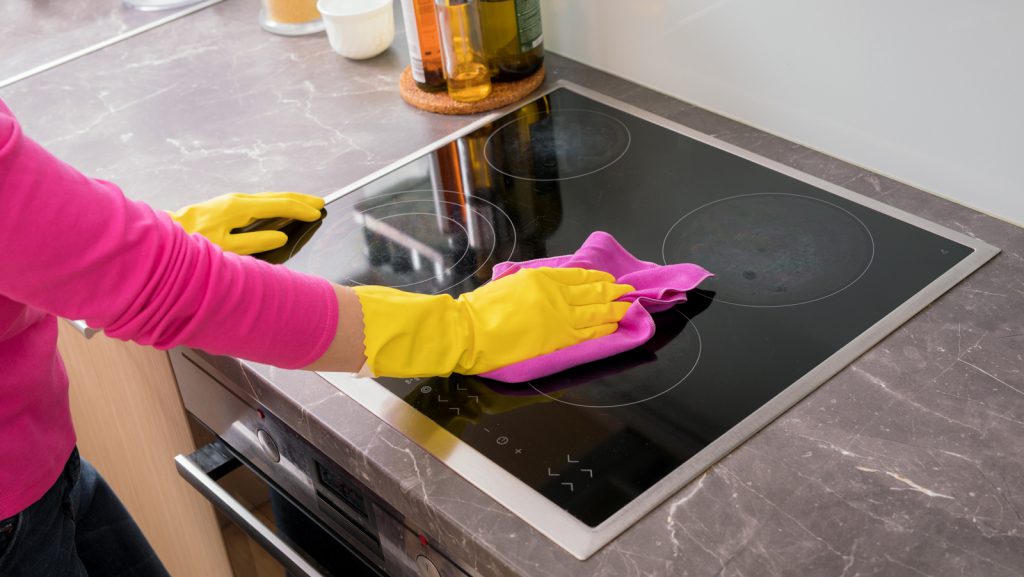 The hob
From runaway ingredients and overflowing saucepans to splashes from cooking and grease from frying, hobs need regular cleaning.
First remove any loose debris, then lift away any removable parts, such as cast iron supports on a gas hob – you can leave these to soak in hot, soapy water while you tackle the hob with antibacterial spray and a sponge. For a really deep clean, try using a handheld steam cleaner to blast away spills and stuck-on dirt.
Don't forget: Look up! The splashback or tiles around hobs are often neglected, though just as at risk of food splashes. Try removing grease with a homemade mix of equal parts baking soda and warm water. Leave the paste to do its magic before wiping away.
Door handles
It's easy to forget to clean places that don't 'look' dirty – but door handles often harbour germs. After all, they're often touched while preparing food, coming in from outside or going to the bathroom. Wipe over weekly with disinfectant and a clean cloth to keep bacteria at bay.
Don't forget: Cupboard doors and appliance handles can build up a residue of grease and food residue due to their use while handling raw ingredients. Don't forget to include them in your deep clean routine!